October 24 Bulletin
"You're in God's Camp; Redeem the Time"
Genesis 32:2, Ephesians 5:16
9:00 am—Music and Prayer with Worship Team
Impact Hour streams live at 10 am
Worship service streams live at 11:00 am
Click on "Livestream" or "Listen Live" at cornerstonelakeside.com
Recordings are also available
10:00 am—Impact Hour: Pastor Clay and Nancy Stidham
"The History of Salvation" 9
11:00 am
—Worship for all ages
11:30 am
Children's Church and iTeens 3rd Sunday
Morning Message: Pastor Clay Stidham
"Discovering the Word"
2 Kings 22:1-20, 23:1-10
John 1:1-39
12:30 pm — Commitment and Dismissal
Calendar
October 25—Monday Marys Ladies Bible Study 10 am at the Office. 12:30 pm on Zoom
October 25—"Reliance Preparation" at the Office 6:30 pm--note the new location
October 29—Friday Bible study at the Office 4 pm
October 26—Bible Study Breakfast 8 am at the Office
October 27—Men's Bible Study 7 pm at the Office
November 6—Women's Fair 9am-2pm Holbrook 1st Baptist
November 7—Youth Class at 10:45 am breakfast area
November 21—Children's church and iTeens
Pot Luck at the Hampton 1 pm following service
Special Events
Women's Fair at First Baptist Church, Holbrook
November 6 from 9 am to 2 pm
Call 928-524-2555
Vendors, lunch, speaker Lori Woods
Doors open at 8 am
$8 online or $10 at the door
In the News
Items are presented for information purposes only. Opinions expressed in the articles do not necessarily represent the views of Cornerstone Community Church.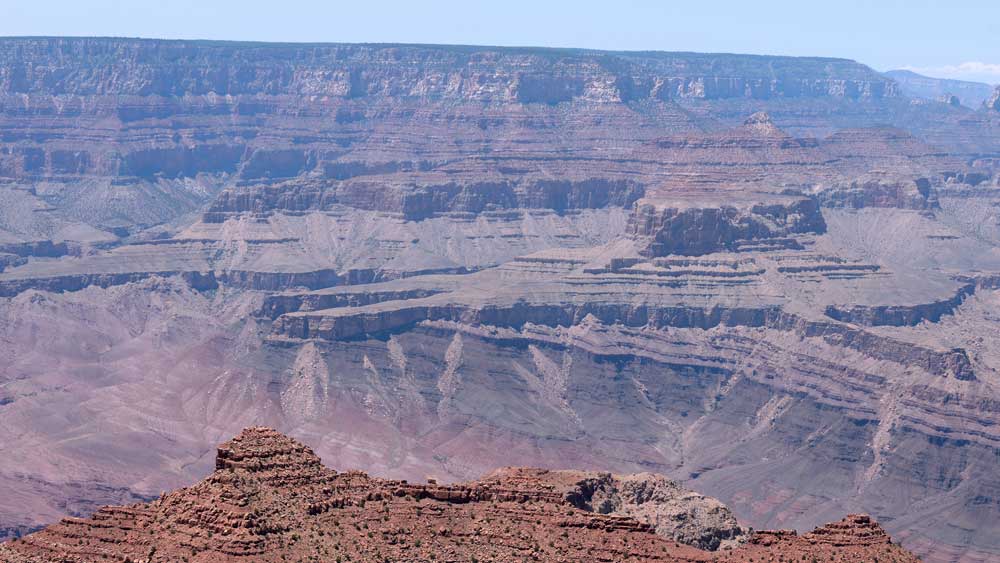 The Great Unconformity is one of the most baffling mysteries in the geological sciences.1 It is marked by a massive surface of erosion that appears all over the world at about the same time. Many studies have tried and failed to satisfactorily explain its global occurrence. Now a new report published in Geology claims to take a step forward in solving this mystery.2 Just like prior attempts, this research effort still falls short in providing an explanation for the universal nature of the Great Unconformity. The global Flood still remains the best solution.
A significant portion of the Earth's crust, including some sedimentary layers, was simultaneously stripped off a majority of the world's continents to make the Great Unconformity. This erosion occurred just prior to the deposition of the overlying fossil-rich sedimentary layers that we identify as Flood rocks.
There couldn't have been much time between the erosion and the deposition, since the Great Unconformity surface is fairly flat in most places. And in many cases, it contains broken pieces of the underlying material. There are no gullies, ravines, channels or any other expected types of long-term erosion along the surface. The surface looks fairly flat and appears as if it was only planed off hours or days before the sediments were deposited on top.
And in many locations, the basal Sauk megasequence layers (the first Flood deposits that begin to cover the continents) deposited on the Great Unconformity coincide with the "Cambrian Explosion." The Cambrian Explosion is as mysterious to secular geologists as the Great Unconformity.3 The Cambrian or basal Sauk layer is the unit where the first hard-shelled organisms show up suddenly in great numbers, full-formed, and without any ancestral forms in the rocks below.
Geologists have long struggled to explain what they interpret as perhaps a billion years completely gone from the rock record. In 2019, secular researchers claimed that the Great Unconformity could be explained by a massive episode of global glaciation, called "Snowball Earth."4 They argued that about two to three vertical miles of rock were removed by glaciers between about 717 and 600 million years ago in three separate glaciations, creating the Great Unconformity surface.4
When another study from 2020 took a shot at explaining the mystery, they contradicted the 2019 study.5 These secular scientists concluded that much of the erosion took place prior to the so-called "Snowball Earth" event and/or may have been from multiple erosional events, instead of having formed during some claimed global glaciation.5
Whenever conclusions contradict, it's a good bet that neither conclusion holds any water.
The present study was a collaboration of four scientists from the University of Colorado and the University of California, Santa Barbara.2 They used a new method called zircon thermochronology on rocks collected in Grand Canyon. This process records the so-called cooling history of the rocks which they claim serves as a proxy for erosional history.
They concluded that early faulting uplifted the western part of Grand Canyon, helping it erode down to the Precambrian crust while the eastern part was not uplifted.2 This preserved up to two miles of Precambrian sediment in the eastern sector. Furthermore, they claimed that these uplifts were part of the break-up of a fictional pre-Pangea supercontinent called Rodinia, which supposedly took place 700 million years ago.6 And that the final erosional event which planed off the landscape occurred just prior to the deposition of the fossil-bearing Cambrian rocks (Sauk megasequence).
This new study therefore fails to explain the cause of the "final erosional event." The study authors talked all around the question of what caused the Great Unconformity without every answering it! All their paper really contributes is the possibility that differential faulting may have helped preserve pre-Cambrian sediments on the east side of Grand Canyon.
ICR acknowledges faulting in our Flood model, too. In fact, the Bible tells us about a major upheaval called the breaking up of the fountains of the great deep at the onset of the global Flood (Gen. 7:11). Maps compiled from geologic rock column databases show that faulting and volcanic activity occurred along both coasts of North America just prior to depositing the Sauk megasequence (Cambrian rocks).7 The Grand Canyon region was near the original pre-Flood continental margin.7 Faulting likely uplifted the western part of Grand Canyon and down-dropped the eastern portion, preserving some thick pre-Sauk sediments below the Great Unconformity.
Some of these preserved pre-Sauk sediments are possibly post-Creation Week and pre-Flood deposits, with some upper layers likely even earliest Flood sediments.7 These deposits were possibly created by processes associated with the bursting of the fountains on the day Noah's Flood began.
We also acknowledge that a global erosional event occurred just prior to, and possibly along with, the deposition of the Sauk megasequence (Cambrian layers). This is the root cause of the relatively planar Great Unconformity surface. It takes a global cause to produce a global effect, and the Flood fits the bill.
Accepting the words of Jesus as true history in the book of Genesis eliminates much of the mystery of the Great Unconformity. We may not fully understand the processes that made this universal erosional surface, but we know that the global Flood provides the best cause.
References
1. Nield, D. The Grand Canyon is missing a billion years' worth of rocks. Scientists may know why. Posted on Science Alert. August 22, 2021, accessed August 25, 2021.
2. Peak, B.A., et al. 2021. Zircon (U-Th)/He thermochronology reveals pre-Great Unconformity paleotopography in the Grand Canyon region, USA. Geology.
3. Clarey, T. 2020. Carved in Stone: Geological Evidence of the Worldwide Flood. Dallas, TX: Institute for Creation Research, 202-204.
4. Keller, C.B. et al. 2019. Neoproterozoic glacial origin of the Great Unconformity. Proceedings of the National Academy of Sciences. 116 (4):1136-1145.
5. Flowers, R.M. et al. Diachronous development of Great Unconformities before Neoproterozoic Snowball Earth. Proceedings of the National Academy of Sciences. Posted on pnas.com April 27, 2020, accessed May 4, 2020.
6. Clarey, T.L., and D.J. Werner. 2020. The pre-Flood world resembled Pangaea. Journal of Creation. 34(2): 16-19.
7. Clarey, T. 2020. Carved in Stone: Geological Evidence of the Worldwide Flood. Dallas, TX: Institute for Creation Research, 172-193.
*Dr. Clarey is Research Scientist at the Institute for Creation Research and earned his doctorate in geology from Western Michigan University.
COMMENTARY
Social media can be great; it provides a bridge to people with whom we might otherwise rarely — if ever — connect. As believers, it can also give us access to specific details, so that our prayers can be more attuned to the myriad needs that exist in the world. But if ever there was a double-edged sword, this is it.
There is all kinds of research showing social media use is inextricably linked to increases in depression and anxiety. It's no wonder: we're trying to force a round peg into a square hole. As image-bearers of God, we are designed to be co-creators through communication, but social media is a poor tool for that. Rather than establishing space to create, social media calls upon our worst instincts: to react, repress, and retreat.
We are unendingly assailed by the churn of social media, constantly bombarded with discouraging, complex, and sometimes even scary information, left with only a small arsenal of often unhelpful options: reacting rather than acting, repressing rather than expressing and processing, and retreating or isolating instead of pressing in and adapting.
Human beings weren't designed to take in so much information, particularly when there is little immediate action we can take to address it. There's no doubt in social media's usefulness, but we have to learn to master it so it doesn't master us, and that starts with setting boundaries, such as taking time away from it all, limiting who we follow, and remembering we don't always have to engage, and focusing on our purpose, which is to glorify God in all things, to simply do the next right thing in front of us, and take our burdens to the Lord in prayer.
The 20th-century pastor and author A.W. Tozer once wrote, "Sometimes, when we get overwhelmed, we forget how big God is." What a profound truth, particularly in the social media age.
Below are five Bible passages to keep in mind as you use social media:
PHILIPPIANS 4:6
"Do not be anxious about anything, but in every situation, by prayer and petition, with thanksgiving, present your requests to God. And the peace of God, which transcends all understanding, will guard your hearts and your minds in Christ Jesus."
Main takeaway: We don't have to carry our concerns, worries, and fears in isolation. The Apostle Paul said that in every single circumstance, we can tell God what we are feeling and, as a result, the Lord will protect our hearts and minds from the weight of this world.
ROMANS 8:26
"In the same way, the Spirit helps us in our weakness. We do not know what we ought to pray for, but the Spirit Himself intercedes for us through wordless groans."
Main takeaway: More often than not, it seems, the issues before us are too complex and troubling to understand. In this passage, Paul made it clear the Holy Spirit helps us communicate our requests to God. We can rest assured He is advocating for us in our confusion and lack.
COLOSSIANS 3:1-2
"Since, then, you have been raised with Christ, set your hearts on things above, where Christ is, seated at the right hand of God. Set your minds on things above, not on earthly things."
Main takeaway: While we should certainly be informed and engaged, we should not despair as if we have no hope. Ultimately, as Paul wrote, our lives are not determined or controlled by forces on this earth. Our security is in Jesus, and that should guide our thinking.
MATTHEW 6:30
"If that is how God clothes the grass of the field, which is here today and tomorrow is thrown into the fire, will He not much more clothe you — you of little faith?"
Main takeaway: Even if His provision doesn't look the way we think it should, God can be trusted to meet our greatest needs. If He cares enough about the earth to cover it in brilliant colors that quickly fade, how much more does God care for you, for whom He sent His Son, Jesus, to die?
ROMANS 12:2
"Do not conform to the pattern of this world, but be transformed by the renewing of your mind. Then you will be able to test and approve what God's will is — His good, pleasing, and perfect will."
Main takeaway: While we certainly ought to engage in the world, Paul warned against becoming so consumed by its trappings that we begin to mirror it. Instead, we should set boundaries and see the temporary circumstances around us through the lens of our renewed minds, which come through sanctification as a result of salvation through Jesus.
The Lord is eager to meet us in every situation and circumstance, including when we're overwhelmed by the constant flow of information fed to us by our newsfeeds. Take some time today to turn off your phone and focus on our priority: Jesus.
As long as Peter kept his eyes fixed on Him, he was able to walk on the water.
***As the number of voices facing big-tech censorship continues to grow, please sign up for Faithwire's daily newsletter and download the CBN News app, developed by our parent company, to stay up-to-date with the latest news from a distinctly Christian perspective.***
Word for Worship

The very concept of God having pleasure in things that take place on Earth staggers the imagination. Most amazing of all is the revelation that it pleased Him to put His own Son through a terrible, bruising death, as the tremendous Messianic prophecy of our text reveals.

Nevertheless, this was the only possible way whereby "the pleasure of the LORD" could be accomplished in the redeemed lives of lost men and women, whom He had created for eternal fellowship with the triune God. "For the LORD taketh pleasure in his people: he will beautify the meek with salvation" (Psalm 149:4).

Five times we read in the New Testament that God the Father spoke from heaven assuring us that He was "well pleased" with His "beloved Son" (Matthew 3:17; 17:5; Mark 1:11; Luke 3:22; 2 Peter 1:17). "Yet it pleased the LORD to bruise him!" This is almost impossible to understand, but had it not been so, none of us ever could have been saved. The Lord Jesus Himself has confirmed to His own "little flock" that "it is your Father's good pleasure to give you the kingdom" (Luke 12:32).

Thus, not only have we been created "for thy pleasure" (Revelation 4:11), but also we have been "predestinated...unto the adoption of children by Jesus Christ to himself, according to the good pleasure of his will" (Ephesians 1:5). This is far beyond our comprehension, so we merely rest in the great truth that "it is God which worketh in you both to will and to do of his good pleasure" (Philippians 2:13). We know that "the LORD taketh pleasure in them that fear him" (Psalm 147:11), and we rejoice with thanksgiving! HMM
Our Theme for 2021
"You're in God's Camp; Redeem the Time"
Genesis 32 NLT As Jacob started on his way again, angels of God came to meet him. 2 When Jacob saw them, he exclaimed, "This is God's camp!" So he named the place Mahanaim.
New Defender's Study Bible Notes
32:1 angels of God. This is Jacob's second encounter with angels; the first, twenty years earlier, was as he left the promised land. He encounters them again as he returns. In both cases, whether facing the external dangers of the material world (typified by Laban) or the internal dangers of the religious world (typified by Esau), Jacob could rely on the help of God's invisible army of ministering spirits (Hebrews 1:14); the same is true for faithful men of God today.
32:2 Mahanaim. "Mahanaim" means "two hosts," referring to the small visible company of faithful followers and the vastly superior invisible host of mighty angels.
Ephesians 5:7 NKJV Therefore do not be partakers with them.
Walk in Light
8 For you were once darkness, but now you are light in the Lord. Walk as children of light 9 (for the fruit of the Spirit is in all goodness, righteousness, and truth), 10 finding out what is acceptable to the Lord. 11 And have no fellowship with the unfruitful works of darkness, but rather expose them. 12 For it is shameful even to speak of those things which are done by them in secret. 13 But all things that are exposed are made manifest by the light, for whatever makes manifest is light. 14 Therefore He says:
"Awake, you who sleep,
Arise from the dead,
And Christ will give you light."
Walk in Wisdom
15 See then that you walk circumspectly, not as fools but as wise, 16 redeeming the time, because the days are evil.
17 Therefore do not be unwise, but understand what the will of the Lord is. 18 And do not be drunk with wine, in which is dissipation; but be filled with the Spirit, 19 speaking to one another in psalms and hymns and spiritual songs, singing and making melody in your heart to the Lord, 20 giving thanks always for all things to God the Father in the name of our Lord Jesus Christ,
Be-dedicate yourself to Him!
Pray
Promote
Participate