May 31 Bulletin
"Fight on!"
1 Timothy 6:12 (NKJV)
9:00 am—Music and Prayer with Worship Team
Impact Hour streams live at 10 am
Worship service streams live at 11:00 am
Click on "Livestream" or "Listen Live" at cornerstonelakeside.com
Recordings are also available
10:00 am—Impact Hour: Del Lewis
"As it was in the Days of Noah" 2
11:00 am
—Worship for all ages
11:30 am
Children's Church and iTeens resume in September
Morning Message: Pastor Clay Stidham
Fight On and Overcome
Isaiah 5:20
Revelation 12:7-13
Revelation 3:7-13
Luke 11:1-13
Romans 12:1-3, 21
12:25 pm —Commitment and Dismissal
Calendar
Anne Graham Lotz has posted on her website--Turning to Jesus: Calling Women to pray. Anne's prayer for the nation will be available and the prayer points are also on the website. Just think about the power of the women of America praying for one hour some time on Pentecost Sunday--TODAY!
June 21—Fathers Day Picnic at Fool Hollow Cancelled
In the News
Articles featured do not necessarily represent the opinion of Cornerstone Community Church or its members. Selection of articles is for information purposes only.
The founder of Ravi Zacharias International Ministries on his new book, 'The Logic of God.'
Vice President Mike Pence, baseball player Tim Tebow and other leaders took part in an online memorial service Friday for renowned Christianevangelist Ravi Zacharias, who died on May 19 from a rare form of cancer. He was 74.
The popular author, speaker and founder of Ravi Zacharias International Ministries (RZIM) spent the greater part of his life defending Christianity. He revealed he discovered his faith while facing suicide at the age of 17.
LAUREN GREEN: REMEMBERING RAVI ZACHARIAS -- CHRISTIAN LEADER'S DEATH MARKS THE END OF AN ERA
The celebration of Zacharias' life and legacy was held at Passion City Church in Atlanta and watched online by more than 75,000 online at RZIM.org/RaviMemorial.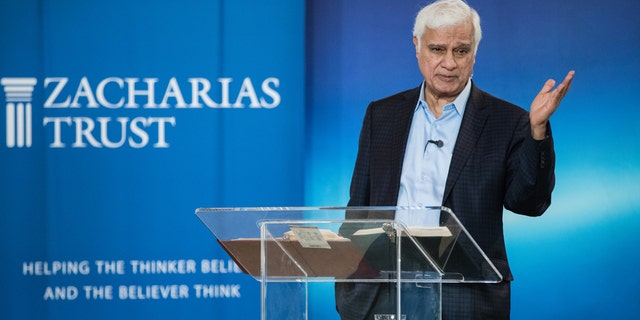 Pence called Zacharias a "gentle giant of the faith" and his death a "personal loss." When Pence was governor of Indiana, Zacharias spoke at the 2014 state prayer breakfast at his invitation.
"Yesterday President Trump said by making the intellectual case for Christianity, Ravi Zacharias was instrumental in helping millions of people around the world come to know the love and mercy of Jesus Christ," Pence said.
RAVI ZACHARIAS TRIBUTES POUR IN FROM PENCE, CHRISTIAN LEADERS
The vice president, who visited the Zacharias family at RZIM's headquarters in Alpharetta on May 22, added: "In the late Billy Graham, it's been observed that God gave us the greatest evangelist of the 20th century. In Ravi Zacharias, God gave us the greatest Christian apologist of this century."
Tebow called Zacharias his "mentor, teacher, pastor, friend, and hero" reminiscing about the first time they met and most recently when he knelt by his bedside.
"If Ravi touched your life, then let's honor him by honoring the one that he honored more than anything else, Jesus Christ," Tebow urged those watching.
In addition to Pence and Tebow, tributes came from family and friends – including RZIM president Michael Ramsden, Brooklyn Tabernacle senior pastor Jim Cymbala, Passion Movement founder Louie Giglio, Christian music artist Matt Redman, and rapper Lecrae.
MARYLAND COUNTY WALKS BACK ON COMMUNION BAN AFTER CATHOLIC BACKLASH
"We are here today to give honor to the life and ministry of Ravi Zacharias, but we are also here today to give honor to his Lord and Savior Jesus Christ," Giglio told those gathered in person and to the thousands tuning in online.
"He was a man of character, who answered questions with poise and grace, but the thing that impacted me most, every time I was around Ravi, I just wanted to know Christ more," Louis Phillips, RZIM speaker, said of Zacharias' impact prior to the service starting.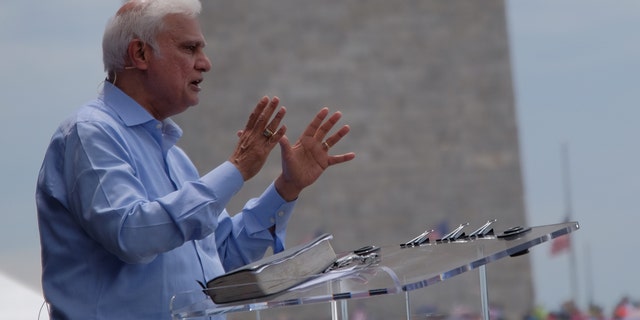 Pulse, the evangelism movement founded by Nick Hall, will host Make Jesus Known, a two-hour online apologetics event on May 30 to equip the global church to preach the gospel in partnership with RZIM to honor Zacharias.
"To millions of Christian around the world, Ravi Zacharias was the most famous and influential Christian apologist of the past century. But to me, he was a mentor and friend," Hall told Fox News.
GEORGE FLOYD'S DEATH: FAITH LEADERS CALL FOR PRAYER AMID VIOLENT UNREST IN MINNEAPOLIS
"He showed me what it really means to pour into people and share the message of Christ with a hurting world," he added. "I can think of no better way to honor his life than continuing his legacy of love, leadership and evangelism."
Zacharias was a frequent guest on Fox News Channel and grew RZIM, which he founded in 1984, into a global team of nearly 100 Christian scholars and authors who continue his legacy around the world today.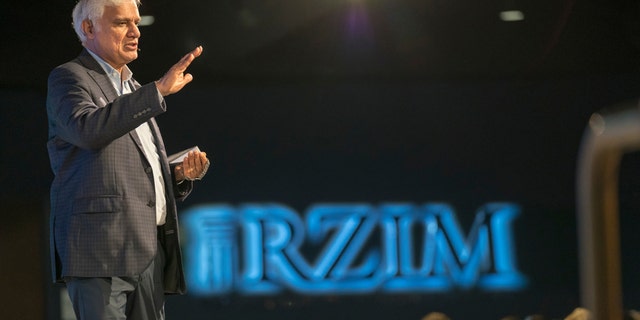 In a private graveside service, Zacharias was buried May 21 in a casket built by Louisiana State Penitentiary, also known as Angola Prison, inmates, a request the Christian apologist had years ago, according to RZIM.
CLICK HERE TO GET THE FOX NEWS APP
"These prisoners know that this world is not their home and that no coffin could ever be their final destination. Jesus assured us of that. Such is the gospel story," he wrote in his latest book, "Seeing Jesus from the East."
He is survived by his wife, Margaret Reynolds Zacharias; two daughters, Sarah Zacharias Davis and Naomi Zacharias; a son, Nathan; and five grandchildren.
Fox News Flash top entertainment and celebrity headlines are here. Check out what's clicking today in entertainment.
The lead singer of a Christian rock band and the son of a pastor announced on Instagram that he no longer believes in God.
"I've been terrified to post this for a while-- but it feels like it's time for me to be honest," Jon Steingard, the frontman for the band Hawk Nelson, wrote in the caption of a lengthy note on May 20.
WELL-KNOWN CHRISTIAN AUTHOR, PURITY ADVOCATE, RENOUNCES HIS FAITH: 'I HOPE YOU CAN FORGIVE ME'
"After growing up in a Christian home, being a pastor's kid, playing and singing in a Christian band, and having the word 'Christian' in front of most of the things in my life — I am now finding that I no longer believe in God," he said.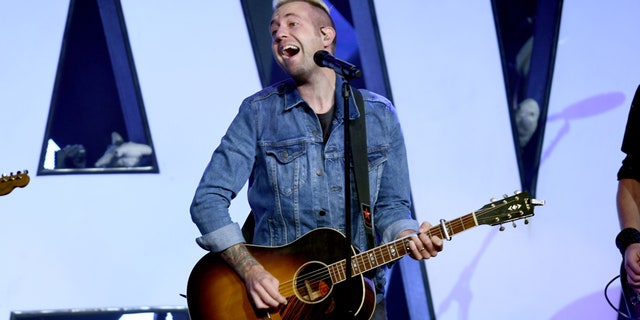 After Steingard switched from guitarist to lead vocalist in 2012, the band, formed in 2000 from Peterborough, Ontario, shifted from fast-paced punk rock to more contemporary Christian music with songs like "Drops in the Ocean," which he said he can "no longer sing" in good conscience.
"This is not a post I ever thought that I would write, but now I feel like I really need to," Steingard wrote, explaining the loss of faith didn't happen overnight and it came with questions about God, the Bible, and his upbringing in a Christian home.
Steingard received an outpouring of support from fellow Christian singers.
"Love you bro. Always will," said Jeremy Camp, on whom the Christian film "I Still Believe" is based.
RAVI ZACHARIAS TRIBUTES POUR IN FROM PENCE, CHRISTIAN LEADERS
Tenth Avenue North singer Mike Donehey wrote: "Man I love that you shared this. You know I'm always around to talk about our belief in God or lack thereof. Love you and always will."
Former lead singer of Sanctus Real Matt Hammitt added, "To echo so many others here, I have nothing but love in my heart for your old friend."
CLICK HERE TO GET THE FOX NEWS APP
Last year, the author of the best-seller "I Kissed Dating Goodbye," Joshua Harris, renounced his faith in a shocking post on Instagram, writing, "I am not a Christian."
Steingard did add, "I'm open to the idea that God is there. I'd prefer if he was. I suspect if he is there, he is very different than what I was taught."
Fox News Flash top entertainment and celebrity headlines are here. Check out what's clicking today in entertainment.
Get all the latest news on coronavirus and more delivered daily to your inbox. Sign up here.
Now you can experience the miracles of Jesus in virtual reality.
"7 Miracles," a 2018 Raindance Film Festival-winning movie from HTC Vive Studios, offers an immersive virtual reality adaptation of the seven miracles of Jesus Christ as told in the Gospel of John.
'THE CHOSEN' STAR JONATHAN ROUMIE ON PLAYING JESUS: IT 'MADE ME A BETTER VERSION OF MYSELF'
"During these times of social distancing, we need a safe way to stay in touch with our family, friends, and colleagues, as well as our faith, and virtual reality is the ideal medium for this" Cher Wang, chairwoman of HTC VIVE, told Fox News.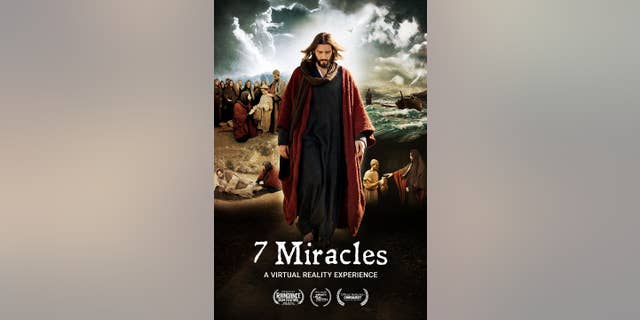 The VR film offers seven episodes that put the viewer into the parables of Christ, combining cutting-edge technology with ancient settings.
THESE CHRISTIAN ARTISTS ARE DOING DRIVE-IN CONCERTS
It was filmed in Rome and Matera, locations where blockbusters like "The Passion of the Christ" and "Ben Hur" were also shot.
"7 Miracles" is available now on Viveport Infinity, the Apple App Store and Google Play.
CLICK HERE FOR THE FOX NEWS APP
"Whether it's interactive social games with friends, virtual presence collaboration with VIVE Sync meetings, discovering our history and culture in new ways, or simply immersing ourselves in inspirational stories like the 7 Miracles of Jesus," Wang added. "HTC VIVE VR enables us to experience important aspects of our lives in new and inspiring ways."
Many faith leaders say they will defy government orders if necessary to reopen; Doug McKelway reports.
Get all the latest news on coronavirus and more delivered daily to your inbox. Sign up here.
The pastor of the First Pentecostal Church of Holly Springs in Mississippi said his church was destroyed because his congregants wanted to worship in-person amid coronavirus restrictions.
In an op-ed for USA Today, Jerry Waldrop, who has led the small church for more than 30 years, described the "nightmare" scenario he has faced over the last few weeks.
CALIFORNIA PASTOR CLAIMS STATE HAS 'DISCRIMINATED AGAINST,' 'DENIGRATED' CHURCHES IN REOPENING PLAN
"I never thought that in America I'd experience what it was like for ... armed policemen to hand me an official government document, ordering our community of faithful to cease and desist worshiping on Easter Sunday," he wrote, "and to depart the House of God."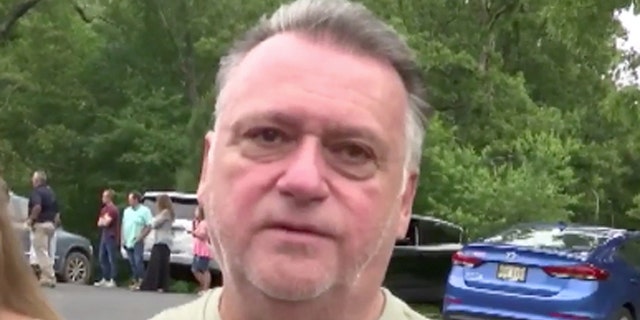 After getting into a legal battle with the city to reopen the house of worship, the pastor said "someone burned down our church, leaving only a smoldering mass of debris and our dreams" and "graffiti, trying to shame us for worshiping together in our church."
The graffiti message read: "I Bet you stay home now you hypokrits [sic]."
"Who would do such a thing? Why would anyone want to destroy a sacred place where the faithful venerate God in their own way, in a way that does not intrude on others' rights or disrupt their lives?" Waldrop wrote. "But critics tell us that we are selfish, and that by gathering we are endangering other people who might believe differently."
CHRISTIAN BAND RESPONDS TO ITS LEAD SINGER SAYING HE NO LONGER BELIEVES IN GOD
He argues the congregation was practicing social distancing and following CDC guidelines just like Walmart, which is open: "Does the Constitution guarantee shoppers greater rights to assemble than people of faith?"
Last month, U.S. District Judge Michael P. Mills ruled that the church could hold drive-thru services after its pastor was cited by police for having an Easter Sunday service in defiance of the local stay-at-home order.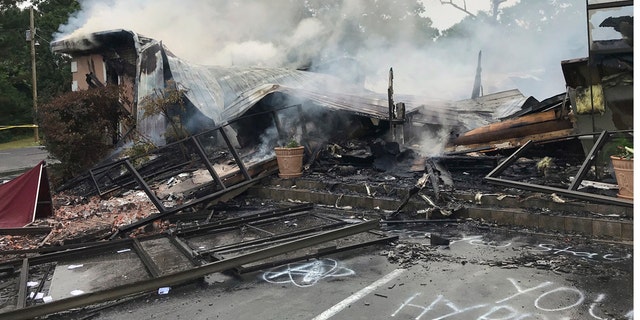 But the city argued that the arson rendered the case null and void. Last Friday, Fifth Circuit Judge Don Willett sided with First Pentecostal and slammed the city for its actions.
"One might expect a city to express sympathy or outrage (or both) when a neighborhood house of worship is set ablaze," Willett wrote. "One would be mistaken. Rather than condemn the crime's depravity, the City seized advantage, insisting that the Church's First Amendment claim necessarily went up in smoke when the church did... This argument is shameful."
He added: "When the parishioners of First Pentecostal Church leave their homes on Sundays, they are not going to church; they are the church. The church is not the building."
President Trump on Friday called for all houses of worship across the country to be reopened as "essential" to the nation, which Thomas More Society senior counsel Stephen Crampton celebrated.
The Marshall County arson investigation is still ongoing and the cause of the fire remains unknown, the DeSoto Times-Tribune reports.
CLICK HERE FOR THE FOX NEWS APP
"Right now, all I really say is that it is still under investigation with several different entities," said Leland Reed, Marshall County Fire Investigator and Holly Springs Assistant Fire Chief on Wednesday. "Marshall County Sheriff's Office, the State Fire Marshal's Office, Bureau of Alcohol, Tobacco, and Explosives, and the FBI are involved."
HOLLY SPRINGS, Miss. — The Mayor of Holly Springs sent a response Monday after an appeals court judge commented on the First Pentecostal Church of Holly Springs' federal lawsuit against the City of Holly Springs.
The lawsuit was filed after the city cited the church for violating the Stay At Home order by having services in the church instead of a drive-up service on Easter Sunday.
FOX13 has reached out for the judge's exact comments. We will share those when they are available.
The Mayor's response reads as follows:
As a result of a worldwide pandemic completely out of our control the City of Holly Springs took a position entirely focused on doing the right thing and saving lives while protecting everyone in our community, including the members and friends of First Pentecostal Church of Holly Springs.
The City of Holly Springs achieved nearly one hundred percent collaboration pertaining to the cities, Safer at Home order from all churches in our community. They cooperated not because they felt the city was challenging their constitutional right to freedom of religion, but because they understood the need to do whatever humanly possible to save lives while protecting the membership of their congregations. I want to pause here and thank those churches and all other businesses and agencies for working with us to protect our community.
At no point was the City of Holly Springs attempting to restrict churches from worship. This false narrative perpetrated by a limited few including the appeals court judge who attempted to connect the burning of (First Pentecostal Church of Holly Springs) to the City of Holly Springs Safer At Home order and the lawsuit filed is extremely irresponsible. No city would reach so low as to turn a legitimate effort to protect and save lives to a deliberate act to destroy a house of worship. For any judge to intentionally mischaracterize the City of Holly Springs as being unsympathetic or worse somehow encouraging such an act of destruction and violence is conduct beneath the position of an appellate court judge. The fact is as Mayor on behalf of our entire administration, we would like nothing more than for the federal investigation into the arson to reveal whoever is responsible for burning the church to the ground. The sooner they are brought to justice the better.
Turning the COVID-19 pandemic into a political or ideological war of us against them is the most gross display of divisive rhetoric I have ever witnessed. Let me be clear, the CIty of Holly Springs has never been against any church. Our record of working in unity with and seeking the advice from many churches and the ecumenical leadership of this community is a matter of record. Churches and their congregants have always been a vital part of Holly Springs, essential to the fabric, strength and perseverance of our beloved community,
I am an American who actually served this country as a United States Marine for twelve years and was called to active duty during Operation Desert Storm. I understand fully what Memorial Day means to this country and the freedoms many of my fellow servicemen and service women gave their lives for. My God bless the City of Holly Springs and continue to bless the United States of America.
Mayor of The City of Holly Springs
This is the ruling the Mayor referenced:
IN THE UNITED STATES COURT OF APPEALS FOR THE FIFTH CIRCUIT
FIRST PENTECOSTAL CHURCH OF HOLLY SPRINGS,
CITY OF HOLLY SPRINGS, MISSISSIPPI,
Appeal from the United States District Court for the Northern District of Mississippi
Before HIGGINBOTHAM, SOUTHWICK, and WILLETT, Circuit Judges. PER CURIAM: Our sole appellate jurisdiction in this case rests upon denial of an injunction implied from the choice by the district court not to rule in an expedited fashion. After briefing, it remains plain that the court is being requested to enjoin a shifting regulatory regime not yet settled as to its regulation and regulatory effect, such as the apparent acceptance by the Church of the Governor's regulations. That settlement is best made by the district court in the first instance. Lest we in error step upon treasured values of religious freedom and personal liberties we stay our hand and return this case to the district court for decision footed upon a record reflecting current conditions.
Accordingly, we recognize that in this fast-shifting landscape of COVID19 regulations, temporary deferral of a decision may effectively be a permanent denial. In the interim, pending the district court's decision, the City is enjoined from enforcing against the Church the Faith Based Organizations sections of Executive Order 6 and Executive Order 7. We do this upon the assurances by the Church that it will "satisf[y] the requirements entitling similarly situated businesses and operations to reopen." In this vein, we refer the Church to the Governor's new "Safe Worship Guidelines for In-Person Worship Services," which appear similarly rigorous to the City's requirements for reopening businesses but are tailored to church operations. These guidelines, if implemented in the spirit of the City's orders, may help the Church abide by its safety pledge during this intervening period while the district court considers the injunction request and while the City continues the ongoing process of evaluating and revising its orders related to COVID-19. IT IS ORDERED that appellant's emergency motion for injunction pending appeal is granted as set out above. To the extent appellant seeks further relief from this court, the motion is denied. IT IS FURTHER ORDERED that appellant's alternative motion to expedite the appeal is denied as moot. This case is remanded to the district court.
DON R. WILLETT, Circuit Judge, concurring. The First Pentecostal Church of Holly Springs was burned to the ground earlier this week. Graffiti spray-painted in the church parking lot sneered, "Bet you Stay home Now YOU HYPOKRITS." The City mentions the church burning in its latest brief, but in a manner less commendable than condemnable. One might expect a city to express sympathy or outrage (or both) when a neighborhood house of worship is set ablaze. One would be mistaken. Rather than condemn the crime's depravity, the City seized advantage, insisting that the Church's First Amendment claim necessarily went up in smoke when the church did: "the Church was destroyed from an arson fire . . . making the permanent injunction claim moot." This argument is shameful. When the parishioners of First Pentecostal Church leave their homes on Sundays, they are not going to church; they are the church. The church is not the building. When the New Testament speaks of the church, it never refers to brick-and-mortar places where people gather, but to flesh-and-blood people who gather together.1 Think people, not steeple. I concur in the court's grant of injunctive relief. Singling out houses of worship—and only houses of worship, it seems—cannot possibly be squared with the First Amendment. Given the Church's pledge "to incorporate the public health guidelines applicable to other entities," why can its members be trusted to adhere to social-distancing in a secular setting (a gym) but not in a sacred one (a church)? Their sanctuary may be destroyed (for now), but when congregants congregate this Sunday, whether indoors in another facility (which has been offered) or outdoors in a parking lot, they will come together knowing that a church is not a building you go to but a family you belong to.
1 "Ekklesia," the Greek word for church, means the gathered ones, an assembly of the faithful. See Ekklesia, The Oxford Dictionary of Byzantium (Alexander P. Kashdan ed., 1991) ("personification of the church").
© 2020 © 2020 Cox Media Group
Fox News Flash top headlines are here. Check out what's clicking on Foxnews.com.
Get all the latest news on coronavirus and more delivered daily to your inbox. Sign up here.
A 24-year-old woman in Uganda, unable to travel due to coronavirusrestrictions, was burned by her Muslim father for purportedly converting to Christianity, according to a persecution watchdog group.
Rehema Kyomuhendo is one among millions of Christians in the East Africannation who face unprecedented levels of persecution.
WUHAN POLICE RAID PASTOR'S HOME, PULL HIM AWAY DURING CHRISTIAN ZOOM EVENT: WATCHDOG
Kyomuhendo was at her aunt's house in Nawuyo village, Mbale District, with her father, Sheikh Hussein Byaruhanga Husain of Mbarara District, on May 4 when she called a friend of his whom she knew to be a Roman Catholic.
"She explained to me about Christ and the way of salvation, and I got convicted and accepted Jesus as my Lord and Savior," Kyomuhendo told Morning Star News by phone. "As she was sharing Christ with me, I was so overjoyed, and my father heard my joy and woke up, came from his bedroom furiously, and started beating me up with blows, slaps and kicks."
SOMALIA SEES 'MASSIVE' UPTICK IN FEMALE GENITAL MUTILATION DURING CORONAVIRUS LOCKDOWN
Husain reportedly told his sister that he was going to kill his daughter for converting to Christianity before he poured burning fuel on her that night, the eleventh day of the Islamic holiday Ramadan.
According to an observer, Kyomuhendo screamed for help before her aunt and a neighbor arrived.
"The neighbor arranged for a taxi-van that took her to a hospital, and she got immediate treatment," a source told the Christian news site.
PASTOR KIDNAPPED, PRESUMED DEAD, RETURNS HOME MORE THAN A YEAR LATER
The 24-year-old girl is expected to remain at Mbale Regional Referral Hospital for more than a month with serious burns on her leg, stomach, ribs, neck and portion of her back, according to the observer.
"Please pray for Kyomuhendo for a quick recovery on her hospital bed," the source said.
WHAT IT IS LIKE TO BE A CHRISTIAN ACTIVIST JAILED WITH ISIS OPERATIVES IN SUDAN
Neither Kyomuhendo nor the neighbor reported the assault to the police for fear that her father might try to kill her, the source added.
Christians in eastern Uganda are among those in their faith who face the most serious dangers in the world, according to World Watch Monitor, a group that tracks persecutions of Christians.
CLICK HERE TO GET THE FOX NEWS APP
The Associated Press contributed to this report.
Word for Worship

"The righteous are bold as a lion." (Proverbs 28:1)

A holy boldness is imparted to those who seek to speak the truth of God (Acts 4:31). The miracle of the Pentecost outpouring of the Holy Spirit was followed by several incidents where the various apostles and early Christian leaders spoke "boldly in the Lord" (Acts 14:3). Where does this boldness come from?

The Presence of the Holy Spirit: The Sanhedrin "saw the boldness of Peter and John" when they were dragged before them (Acts 4:13), after they had healed the lame man shortly after Pentecost. Peter was "filled with the Holy Ghost" (Acts 4:8) and boldly answered the farcical questioning of those self-righteous leaders, and they "took knowledge of them, that they had been with Jesus" (Acts 4:13). When we speak with God's authority, we speak boldly.

The Words of God's Word: The first church prayed "that with all boldness they may speak thy word," and they were enabled to speak "the word of God with boldness" (Acts 4:29, 31). When Paul was starting the church in Ephesus, he "spake boldly for the space of three months, disputing and persuading the things concerning the kingdom of God" (Acts 19:8). We should have boldness when we have opportunity to "make known the mystery of the gospel" (Ephesians 6:19).

The Assurance of a Righteous Life: "According to my earnest expectation and my hope, that in nothing I shall be ashamed, but that with all boldness, as always, so now also Christ shall be magnified in my body, whether it be by life, or by death" (Philippians 1:20). Several godly traits of righteous men are given in Hebrews, "so that we may boldly say, The Lord is my helper, and I will not fear what man shall do unto me" (Hebrews 13:6).

These are from where that boldness comes. HMM III

Be-dedicate yourself to Him!
Pray
Promote
Participate