September 1 Bulletin
"The Word is Quick, Powerful, Sharp"
Expect the Unexpected !
9:00 am—Music and Prayer with Worship Team
Impact Hour streams live at 10 am
Worship Hour streams live at 11:00 am
Click on "Livestream" or "Listen Live" at cornerstonelakeside.com
Recordings are also available
10:00 am—Impact Hour: Joe and Karen Henson
Personal Testimony
11:00 am—Worship for all ages
11:30 am—Morning Message
There is a play area in Creekview Room for Pre-K and parents
Children's Church and Nursery return September 22
i
Teen meets in breakfast room
Pastor Clay Stidham
"
Thou Art THAT God"
Deuteronomy 30:11-20, 32:21
2 Samuel 7:18-22, 25-29
Jeremiah 31:31-33
Romans 10 (all)
12:15 pm — Commitment and Dismissal
1:00 pm—Council Meeting at the Office
Calendar
September 4—Men's Bible Study 7 pm at Office
September 6—Open Bible Study 7 pm at Office
September 9—Monday Marys Orientation at Office
September 13-14—Mountain Men's Summit
September 15—Pot Luck at Hampton after service
September 22—Children's Church resumes
In the News
Items are presented for information purposes only. Opinions expressed in the articles do not necessarily represent the views of Cornerstone Community Church.
Life changes overnight for coach John Harrison when his high school basketball team's state championship dreams are crushed under the weight of unexpected news. When the largest manufacturing plant in town suddenly shuts down and hundreds of families begin moving away, John must come to grips with the challenges facing his family and his team. Urged by the school's principal to fill-in and coach a sport he doesn't know or like, John is frustrated and questioning his worth… until he crosses paths with a student struggling with her own journey.
Filled with a powerful mix of faith, a twist of humor, and a ton of heart, the Kendrick Brothers return to theaters with OVERCOMER, their newest feature following FACING THE GIANTS, FIREPROOF, COURAGEOUS, and the #1 box-office hit, WAR ROOM. The inspiring family film stars Alex Kendrick, Priscilla Shirer, Shari Rigby, Cameron Arnett, and introduces Aryn Wright-Thompson. Opening nationwide on August 23, OVERCOMER dares to leave you filled with hope, inspired to dream, and asks the question: what do you allow to define you?
Planned Parenthood has withdrawn from a federal program that would have given them $60 million because of a new Trump administration rule prohibiting abortion referrals for patients.
Kanye West's "Sunday Service" has gone from the mountaintop to the church -- well, a church that meets at James Madison Middle School in North Hollywood.
Excerpt from the article:
Through many conversations over several weeks, I've come to understand that what these women are seeking is a sense of belonging and purpose that secular feminism doesn't readily provide. Their theologies are individual and personal—some disagree with Hillsong's stance that the Bible is "clear" on marriage being between a man and a woman—but each of them believes that Jesus Christ and his teachings can make the world kinder and more equitable for women.
"My work friends think Hillsong is weird. They're like, 'What is it you do—go to a concert in a church?' I tell them I'm not religious. I'm a Christian."
They are, for the most part, young, creative, and independent. They're still in college, or embarking on cool careers. Many admit a fondness for drinking and looking cute on social media—but they also believe in God, marriage, and community. Hillsong doesn't ask them to align their lifestyle with their faith. And, at Colour, they're presented with something rare: a space to think about how to be both a good Christian woman and an empowered one.
The Virginia Real Estate Board accused a Christian realtor of violating fair housing laws because she included a Bible verse on her website and wrote religious phrases like "Jesus Loves You" on her email signature.
The American Center for Law and Justice has filed a lawsuit on behalf of Hadassah Carter alleging the Virginia Real Estate Board violated her First Amendment rights. They say she has been harassed, targeted and discriminated against because of her religious beliefs.
In China, scoring citizens' behavior is official government policy. U.S. companies are increasingly doing something similar, outside the law.
August 22, 2019

|

Judicial Watch
An Obama-appointed federal judge is forcing Wisconsin taxpayers to provide costly sex reassignment surgery and hormonal procedures for low-income transgender residents who get free medical care from the government. In a recently issued ruling U.S. District Judge William M. Conley writes that Medicaid, the publicly funded insurance that covers 65.7 million poor people, cannot deny the medical treatment needs of those suffering from "gender dysphoria." Officials estimate it will cost up to $1.2 million annually to provide transgender Medicaid recipients in the Badger State with treatments such as "gender confirmation" surgery, including elective mastectomies, hysterectomies, genital reconstruction and breast augmentation. The intricate operations are typically done by plastic surgeons.
CHICAGO – The largest study of its kind found new evidence that genes contribute to same-sex sexual behavior, but it echoes research that says there are no specific genes that make people gay.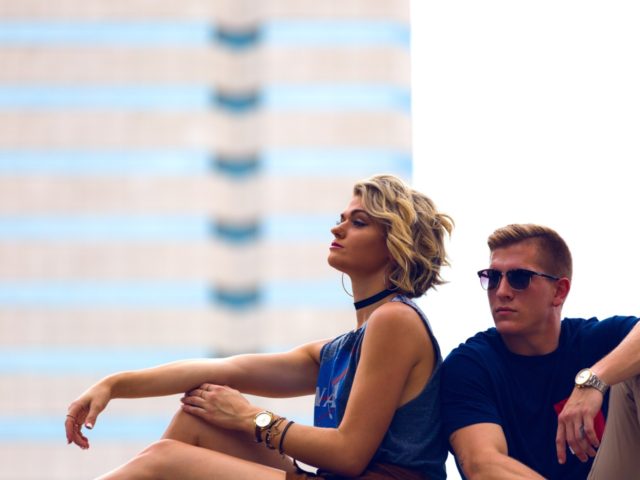 3:35
Women are increasingly opting out of heterosexuality because it is "the bedrock of their global oppression," NBC News asserted in a bizarre opinion piece this week.
"Men need heterosexuality to maintain their societal dominance over women," writes Marcie Bianco for the NBC News website. "Women, on the other hand, are increasingly realizing not only that they don't need heterosexuality, but that it also is often the bedrock of their global oppression."
Word for Worship

"And as we have borne the image of the earthy, we shall also bear the image of the heavenly." (1 Corinthians 15:49)

One of the most amazing promises of the Word of God is that those who "love God" and are "the called according to his purpose" are those whom "he also did predestinate to be conformed to the image of his Son" (Romans 8:28-29).

Adam and Eve were created in His image physically in the beginning. "So God created man in his own image . . . male and female created he them" (Genesis 1:27). Presumably this means they were created in the physical form that God knew He would assume when, in the fullness of time, He would become man Himself, in the person of His Son, Jesus Christ.

That image was marred when Adam (and, in Adam, all men) sinned. Nevertheless, it can be restored spiritually when we receive Christ and "have put on the new man, which is renewed in knowledge after the image of him that created him" (Colossians 3:10).

But this is not all. As our text reveals, we who have been made in God's earthly image (both physically and spiritually) will also, in due time, receive His heavenly image. This will take place when Christ returns. At that time, "we shall all be changed, in a moment, in the twinkling of an eye . . . and the dead shall be raised incorruptible, and we shall be changed" (1 Corinthians 15:51-52).

In what way shall we be changed? The Lord Jesus Himself "shall change our vile body, that it may be fashioned like unto his glorious body" (Philippians 3:21). His body, after His resurrection, was still His physical body, but it was no longer subject to pain or death and was able to pass through walls and to speed rapidly from Earth to heaven. That is "the image of the heavenly" to which we shall be conformed some day soon! For "we know that, when he shall appear, we shall be like him; for we shall see him as he is" (1 John 3:2). HMM