March 8 Bulletin
"Fight on!"
1 Timothy 6:12 (NKJV)
Impact Hour streams live at 10 am
Sermon streams live at 11 am
Click on "Livestream" or "Listen Live" at cornerstonelakeside.com
Recordings are also available
9:00 am—Music and Prayer with Worship Team
10:00 am—Impact Hour: Clay and Nancy Stidham
"In Search of Warrior Jesus" 6
11:00 am—Worship for all ages
Communion will be observed but not served
11:30 am—
Children's Church and nursery in Creekview
iTeens meet in breakfast area
Morning Message: Pastor Clay Stidham
"Faith and Diligence"
Hebrews 11:1-7
Genesis 41:28-38
James 2:18
Proverbs 6:6-8
Proverbs 22:3
Psalm 23:4
Matthew 24:44
Matthew 25:1-4
Philippians 4:6
12:25 pm—Commitment and Dismissal
1:00 pm—Prayer at the Office cancelled
Calendar
Prayer Meeting for Young Life every second Sunday 5 pm at the home of Betty Brusenback
5340 S. Marshall Mtn. Dr., Show Low
Young Life meets Mondays at 6:19 alternately between Lakeside Youth Center and Hampton
March 9—Monday Marys 10 am at Office
March 13—Open Bible Study 7 pm at Office
Men's March 11 Bible study and March 15 Pot Luck Cancelled
In the News
Items are presented for information purposes only. Opinions expressed in the articles do not necessarily represent the views of Cornerstone Community Church.
A Christian woman in Pakistan, Asia Bibi, has been acquitted in a landmark ruling. Bibi was charged with blasphemy a crime that is punishable by death.
The Christian woman who spent eight years on death row in Pakistan for alleged blasphemy against Islam's Prophet Muhammad is sharing her story now.
Asia Bibi was acquitted by the Supreme Court of Pakistan in 2018 and granted refugee status in Canada last year.
KANYE WEST TAKES JESUS TO PARIS FASHION WEEK WITH SPECIAL SUNDAY SERVICE
"I was accused because of the name of Jesus and I knew I would be freed because of Jesus," Bibi said at a Paris press conference, CNA reported.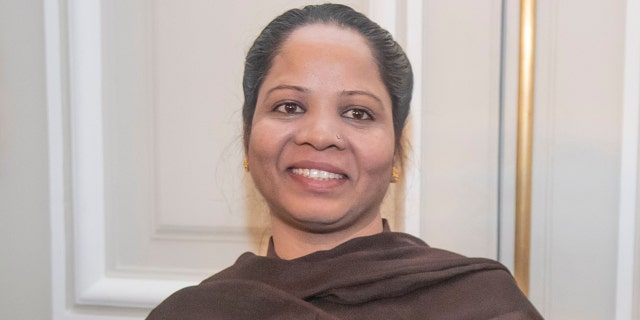 She was convicted of blasphemy in 2009 after fellow farmworkers accused her of insulting Islam's Prophet Muhammad. Bibi was sentenced to death by a three-judge panel in 2010, convicted of violating Islam's holy book, the Quran. She was unable to defend herself because she wasn't in the courtroom.
ARKANSAS POLICE OFFICER PRAYS FOR STUDENTS AT SCHOOL'S FLAGPOLE EVERYDAY
Joining French journalist, Anne-Isabelle Tollet, she wrote an autobiography titled "Enfin Libre," or "Free at Last," with the English edition due in September.
She shared that when her parents baptized her, the priest told them "this little girl will be tested by God" and she believes her time in prison was that test.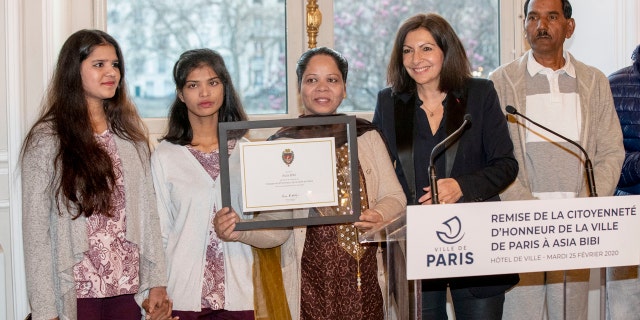 "If you trust in God, your faith becomes stronger," she said. "I knew I was going to be released because I was accused because of the name of Jesus and I would be freed because of Jesus."
CLICK HERE FOR MORE STORIES ON FAITH
Anne Hidalgo, the mayor of Paris, named Bibi an honorary citizen of the city Feb. 24, RTL news reported. Bibi is planning to request asylum in France.
Word For Worship

"And now, little children, abide in him; that, when he shall appear, we may have confidence, and not be ashamed before him at his coming." (1 John 2:28)

There are many glorious promises associated with the great promise that Christ Himself shall once again appear in person here on planet Earth. For example, Paul says: "When Christ, who is our life, shall appear, then shall ye also appear with him in glory" (Colossians 3:4).

Similarly, the apostle Peter promises: "And when the chief Shepherd shall appear, ye shall receive a crown of glory that fadeth not away" (1 Peter 5:4). The writer of Hebrews first reminds us of His former appearance on Earth: "But now once in the end of the world hath he appeared to put away sin by the sacrifice of himself" (Hebrews 9:26). Then the promise is: "Unto them that look for him shall he appear the second time without sin unto salvation" (v. 28).

Perhaps the most wonderful promise associated with His second appearing is given through John: "Beloved, now are we the sons of God, and it doth not yet appear what we shall be: but we know that, when he shall appear, we shall be like him; for we shall see him as he is. And every man that hath this hope in him purifieth himself, even as he is pure" (1 John 3:2-3).

Therefore, when He shall appear, we shall appear with Him in glory; we shall receive an unfading crown of glory; we shall be like Him, and without sin unto salvation. These promises even now constitute an incentive for each believer to purify himself even as He is pure.

But there is also the sobering warning in our text associated with the soon-coming time when He shall appear. We should abide in Him (that is, continue in Him, hour after hour), careful that whatever we do, wherever we go, we are in no danger of being ashamed before Him when He shall appear! HMM
A Word for Someone here today
"We are one in HIM and HE in us." We are to stand strong and remain in Him. We are to proclaim the Gospel in ways yet to be revealed. We are to teach those who are weak. We are to let go and let God. Hallelujah! Praise the Lord. We are to concentrate and focus on Him in each and everything we do while on this Earth.
We could come in contact with those who are ill. We are to minister to them while proclaiming the Gospel. We are to use the Gospel as our shield and defense against all sickness and He will stay true to us never wavering.
Be-dedicate yourself to one degree more
Pray - Promote - Participate