September 8 Bulletin
"The Word is Quick, Powerful, Sharp"
Expect the Unexpected !
Impact Hour streams live at 10 am
Sermon streams live at 11 am
Click on "Livestream" or "Listen Live" at cornerstonelakeside.com
Recordings are also available
9:00 am—Music and Prayer with Worship Team
10:00 am—Impact Hour: Tom Szabo
Israel: Abraham to Netanyahu 1
11:00 am—Worship for all ages
Open Communion Served
11:30 am— iTeens meet in breakfast room
Pre-K children and a parent may use the Creekview room where we have set up toys and snacks.
Children's Church returns September 22
Morning Message: Pastor Clay Stidham
"
Write Your Own Sentence"
2 Samuel 12:1-14; 13:28-29; 18:9-15
1 Kings 2:23-25
Luke 19:11-14
Matthew 21:33-41
Matthew 12:36-37
12:15 pm—Commitment and Dismissal
1:00 pm—Prayer at the Office
Calendar
September 9—Monday Marys Orientation at Office
September 13-14—Mountain Men's Summit
September 15—Pot Luck at Hampton after service
September 20—Open Bible Study 7 pm at Office
September 22—Children's Church resumes
October 2—Men's Bible Study 7 pm at Office
In the News
Items are presented for information purposes only. Opinions expressed in the articles do not necessarily represent the views of Cornerstone Community Church.
The anti-abortion group Live Action is considering its legal options after one of the group's key statements was labeled "false" by a fact-checking organization that works with Facebook.
Live Action President Lila Rose told Fox News that a statement in two videos posted by her group that abortion is not medically necessary was rated false. After content has been flagged as false, it can be subject to reduced distribution on Facebook.
Pete Buttigieg's presidential campaign closed out the week by suggesting Christians reconsider the abortion debate around a child's first breath.
The Indiana mayor sat down with "The Breakfast Club" on Friday to discuss his quest to secure the Democratic Party's presidential nomination when the conversation turned to abortion.
Mr. Buttigieg reaffirmed his pro-choice stance before framing it as perhaps more biblically sound than most people might think.
"[Pro-life Christians] hold everybody in line with this one, kind of piece of doctrine about abortion, which is obviously a tough issue for a lot of people to think through morally," Mr. Buttigieg said. "Then again, there's a lot of parts of the Bible that talk about how life begins with breath, and so even that is something that we can interpret differently."
Host "Charlamagne tha God," whose real name is Lenard McKelvey, added: "I think that if you're a man who's against abortion then you haven't gotten the wrong woman pregnant."
Fox Business Network host Stuart Varney blasted 2020 Democratic Presidential candidate and Vermont Senator Bernie Sanders I-Vt., who said that as president, he would re-start U.S. taxpayer funding of overseas abortions, as part of his plan to combat climate change.
"I don't care what you think about abortion. The idea that you abort to mitigate an increase in the planet's temperature decades from now is about as immoral as you can get," said Varney on his Fox Nation show, "My Take".
BERNIE SANDERS SAYS HE'D BACK US FUNDING FOR THIRD WORLD ABORTIONS, BIRTH CONTROL AS PART OF CLIMATE PLAN
Sen. Sanders made the remarks during a CNN town hall telecast solely focused on the issue of climate change. An audience member asked Sen. Sanders, "Empowering women and educating everyone on the need to curb population growth seems a reasonable campaign to enact. Would you be courageous enough to discuss this issue and make it a key feature of a plan to address climate catastrophe?"
Sanders responded in the affirmative, suggesting that abortions would play a role in his approach to combating climate change. "[T]he answer has everything to do with the fact that women — in the United States of America, by the way — have a right to control their own bodies and make reproductive decisions. And the Mexico City agreement, which denies American aid to those organizations around the world that allow women to have abortions or even get involved in birth control, to me is totally absurd. So I think especially in poor countries around the world, where women do not necessarily want to have large numbers of babies and where they can have the opportunity through birth control to limit the number of kids they have -- something I very, very strongly support," he said.
The Mexico City policy was first implemented in 1984 by the Reagan administration and has since been rescinded and reinstated numerous times by various presidential administrations along party lines.
"If elected, Bernie would make us pay. Why? Because population growth aggravates climate change he says," said Varney, adding sarcastically, "So, reduce the number of people on the planet so we can save the planet,"
Varney and other commentators also raised concerns over the implications of the U.S. funding birth control, as part of efforts to combat climate change, in "poor countries around the world", as Sen. Sanders suggested in his town hall answer.
Washington Post opinion writer Jennifer Rubin wrote, "Sanders's formulation smacks of population control by limiting nonwhite births."
The pro-life group, Susan B. Anthony List, sent a statement, that said, "Bernie Sanders' repugnant 'solution' to climate change – eliminating the children of poorer nations through abortion, paid for by American tax dollars – should be condemned across the political spectrum."
Varney observed, "Can you imagine what the media would say if a conservative were to say the same thing?"
OCASIO-CORTEZ SAYS THERE IS A 'LEGITIMATE QUESTION' THAT NEEDS TO BE ASKED: 'IS IT OKAY TO STILL HAVE CHILDREN?'
Sen. Sanders was not the only Democratic candidate from the CNN forum that drew Varney's attention, he was also struck by former Vice President Joe Biden's answer to one audience member.
"Joe Biden was questioned about oil company executives committing 'crimes against humanity' and he did not push back -- tacitly agreeing with the questioner. Are you kidding me? The fossil fuels that clearly help make America what it is added up to a 'crime against humanity'?" said Varney, "You sit back astonished that Presidential candidates should abandon reason and jump into fantasy land."
Varney concluded, "Nothing compares to Bernie's call for Third World population control through abortion. That is as callous as you can get, and for me frankly, it is disgusting."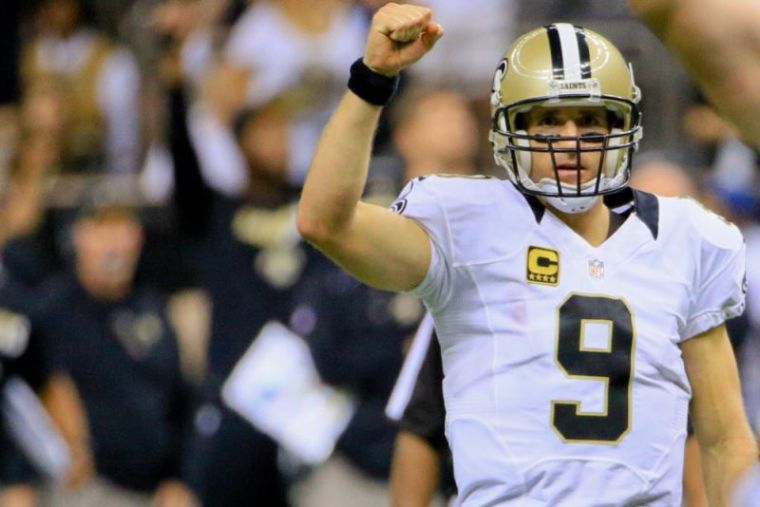 New Orleans Saints star quarterback Drew Brees is taking heat from left-leaning media after he was featured in a recent video clip shared by the socially conservative Christian organization Focus on the Family encouraging kids to bring their Bibles to school.
Founded by the conservative evangelical leader and psychologist Dr. James Dobson, Focus on the Family shared the video in question on Facebook last week as part of its promotion of the Oct. 3 "Bring Your Bible to School Day."
Bring Your Bible to School Day was launched in 2014 by Focus on the Family to encourage students to "celebrate religious freedom and share God's love with their friends."
Since its launch, thousands of students have taken part and the Christian legal group Alliance Defending Freedom has vowed to provide pro-bono legal support to any student who is prevented from participating.
In the 22-second video titled "Shout Out From Drew Brees," the 12-time pro-bowler encouraged kids to take part in the national Bible movement.
Brees tells the audience that one of his favorite verses in the Bible is 2 Corinthians 5:7, which states "For we live by faith not by sight."
"So I want to encourage you to live out your faith on 'Bring your Bible to School Day' and share God's love with friends," Brees concludes in the video. "You're not alone."
Left-leaning websites contend that Brees should not engage with an organization that has funded campaigns in the past to advocate for traditional Christian teachings on marriage and sexuality.
The video was first reported on by Big Easy Magazine, an "unapologetically progressive" New Orleans-based outlet that covers a number of topics including race, politics, environment and LGBT issues.
The magazine was critical of Focus on the Family's support for so-called "conversion therapy," also known as sexual orientation change efforts.
Focus on the Family, which aims to equip parents, children and spouses "thrive in an ever-changing, ever-more-complicated world," supports the idea of providing assistance to gays and lesbians who desire to "live according to biblical truths" by reserving sex for marriage between a man and a woman.
Although medical experts at the APA argue that sexual orientation change efforts can cause harm to those who go through it, a study published last year suggests that sexual orientation change efforts have improved the mental health of mostly Christian men struggling with unwanted same-sex attraction.
However, that study, titled "Effects of Therapy on Religious Men Who Have Unwanted Same-Sex Attraction," was later retracted from the The Linacre Quarterly journal at the request of the journal editor and SAGE Publishing "based on unresolved statistical differences." Following a statistical review and additional information provided by the study's authors, the editor "concluded that in spite of this additional information, the original review still required retraction of the paper."
Proponents of these therapies argue that critics are wrong to claim that these efforts are harmful, and contend that the term "conversion therapy" is derogatory language to discredit professional efforts to help people with unwanted same-sex attractions in talk therapy.
"This would be like white supremacists calling the Civil Rights movement the 'Negro Aggression Movement,'" conservative radio host and Messianic Jewish radio host Michael Brown wrote in an op-ed.
The Big Easy Magazine launched the Twitter hashtag #SaintsDon'tHate in order to pressure Brees over his support for Focus on the Family. Pro-LGBT outlets such as The Advocate, Patheo's "Friendly Atheist," Queerty and Newsweek have also published articles critical of the video.
Focus on the Family President Jim Daly expressed gratitude for Brees' participation in a statement provided to The Christian Post.
"We have deep respect for New Orleans Saints quarterback Drew Brees and appreciate him encouraging students to 'live out' [their] faith on 'Bring Your Bible to School Day' and share God's love with friends," Daly said.
Other celebrities who have expressed support and promoted Bring Your Bible to School Day include "Duck Dynasty" star Sadie Robertson, singer Tauren Wells, the Christian rock band Newsboys, singer Francesca Battistelli and rock artist Zach Williams.
In 2010, Brees talked about "finding faith, strength and hope in the face of hardship" during a broadcast with Focus on the Family Radio.
He was also featured in 2015 on Focus on the Family's "Marriage Successes" section.
US develops 'locust drones'
The US Navy is developing unmanned aerial vehicles (UAVs), or drones, that can be launched from a cannon and "swarm" in a co-ordinated attack.
The drones will be able to fly autonomously and "overwhelm an adversary", the US Office of Naval Research said of its Low-cost UAV Swarming Technology (Locust) programme. The US Navy plans to demonstrate the launch of 30 Locust drones in 2016.
As the drones and the launcher are relatively compact, the Locust system can be deployed from ships, aircraft or land vehicles, the ONR said.
US use of military drones has attracted criticism from human rights groups, who say that despite their highly targeted nature, innocent non-combatants are often killed in the process.
The prospect of autonomous swarms of drones carrying out pre-programmed military missions is only likely to increase such concerns.
Revelation 9
New Living Translation (NLT)
The Fifth Trumpet Brings the First Terror
9 Then the fifth angel blew his trumpet, and I saw a star that had fallen to earth from the sky, and he was given the key to the shaft of the bottomless pit.[a] 2 When he opened it, smoke poured out as though from a huge furnace, and the sunlight and air turned dark from the smoke.
3 Then locusts came from the smoke and descended on the earth, and they were given power to sting like scorpions. 4 They were told not to harm the grass or plants or trees, but only the people who did not have the seal of God on their foreheads.5 They were told not to kill them but to torture them for five months with pain like the pain of a scorpion sting. 6 In those days people will seek death but will not find it. They will long to die, but death will flee from them!
7 The locusts looked like horses prepared for battle. They had what looked like gold crowns on their heads, and their faces looked like human faces. 8 They had hair like women's hair and teeth like the teeth of a lion. 9 They wore armor made of iron, and their wings roared like an army of chariots rushing into battle. 10 They had tails that stung like scorpions, and for five months they had the power to torment people.11 Their king is the angel from the bottomless pit; his name in Hebrew is Abaddon,and in Greek, Apollyon—the Destroyer.
12 The first terror is past, but look, two more terrors are coming!
Word For Worship

"Whom having not seen, ye love; in whom, though now ye see him not, yet believing, ye rejoice with joy unspeakable and full of glory." (1 Peter 1:8)

After His resurrection, the Lord acknowledged the legitimate need for evidence of such a mighty miracle, honoring the request of Thomas to see for himself that He had, indeed, returned from the grave. Nevertheless, Thomas could and should have believed the evidence from the other disciples when they testified of the empty tomb and the previous appearances of Christ. Consequently, the Lord Jesus gave a mild but loving rebuke to His doubting disciple. "Thomas, because thou hast seen me, thou hast believed: blessed are they that have not seen, and yet have believed" (John 20:29).

It is not that the Lord wants us to be credulous, believing something with no basis except blind faith. Today we have an abundance of solid evidence, more even than the disciples themselves had, and there is no excuse not to believe. Nevertheless, we must believe; "For we are saved by hope: but hope that is seen is not hope: for what a man seeth, why doth he yet hope for? But if we hope for that we see not, then do we with patience wait for it" (Romans 8:24-25).

We cannot yet see Him with our eyes, as Thomas did, but we see Him with our hearts, and that is enough. As we read of Him in the Word, we see Him on the cross, taking "our sins in his own body" (1 Peter 2:24) and it breaks our hearts. Then we read of the empty tomb and the linen clothes, and are like John, who "saw, and believed" (John 20:8). Then we "rejoice with joy" (literally, "exult with exceeding gladness"), which cannot be told vocally any more than He can be seen visually. One day soon we shall really see Him in His glory, and "when he shall appear, we shall be like him; for we shall see him as he is" (1 John 3:2). HMM
Be-dedicate yourself to one degree more
Pray - Promote - Participate