August 6
9:00 am—Music and Prayer with Worship Team
10:00 am—Impact Hour: Clay Stidham Jr.
"Happiness" session 7
Impact Hour streams live starting at 10 am
Recordings, podcasts and downloads are available at cornerstonelakeside.com
11:00 am—Worship for all ages
Sermon streams live starting at about 11:45 am
Recordings, podcasts and downloads are available at cornerstonelakeside.com
11:30 am— Children's Church and Nursery meet in Creekview Room
Morning Message: Clay Stidham
"God Tells Us Where to Go"
1 Samuel 9:1-20
Proverbs 3:5-6
Proverbs 16:3
Psalm 37:3-7; 23-25
Psalm 121:1-3
Jeremiah 3:16, 23
John 16:6-13
James 4:13-15
Ephesians 5:14-17
12:15 pm—Commitment and Dismissal
1:00 pm—Council Meeting at Office
Announcements
August 14—Monday Marys Fellowship at home of Nancy Stidham 10 am to 1 pm. "Celebration Salad" pot luck.
This Week
August 9—Men's Bible Study at Office 7 pm "Isaiah"
August 9-13 Ranchmen's Camp at Big Lake
August 12—Women's Fair Debriefing Meeting at Cornerstone Office 10 am
August 12—2nd Annual Veterans Resource Fair 8 am to 3 pm at Show Low City Campus Gym
News about North Korea
Word for Worship

by Brian Thomas, M.S. | Aug. 3, 2017
Researchers shined a laser light on fossil leaves and found some surprising results. Instead of mere impressions of leaves, the fossils turned out to contain original molecules—persisting after millions of supposed years.
Research led by Lund University in Sweden used FTIR to find original molecular bonds still intact inside fossilized leaf wax. The technique detects stretches in specific chemical bonds.
Then the team compared the waxy cuticle that somehow persists in leaf fossils with the same cuticle molecules found in their living counterparts. Many of the scan results showed a match, even after all the years those fossils remained underground. The team published their results in Nature: Ecology & Evolution.1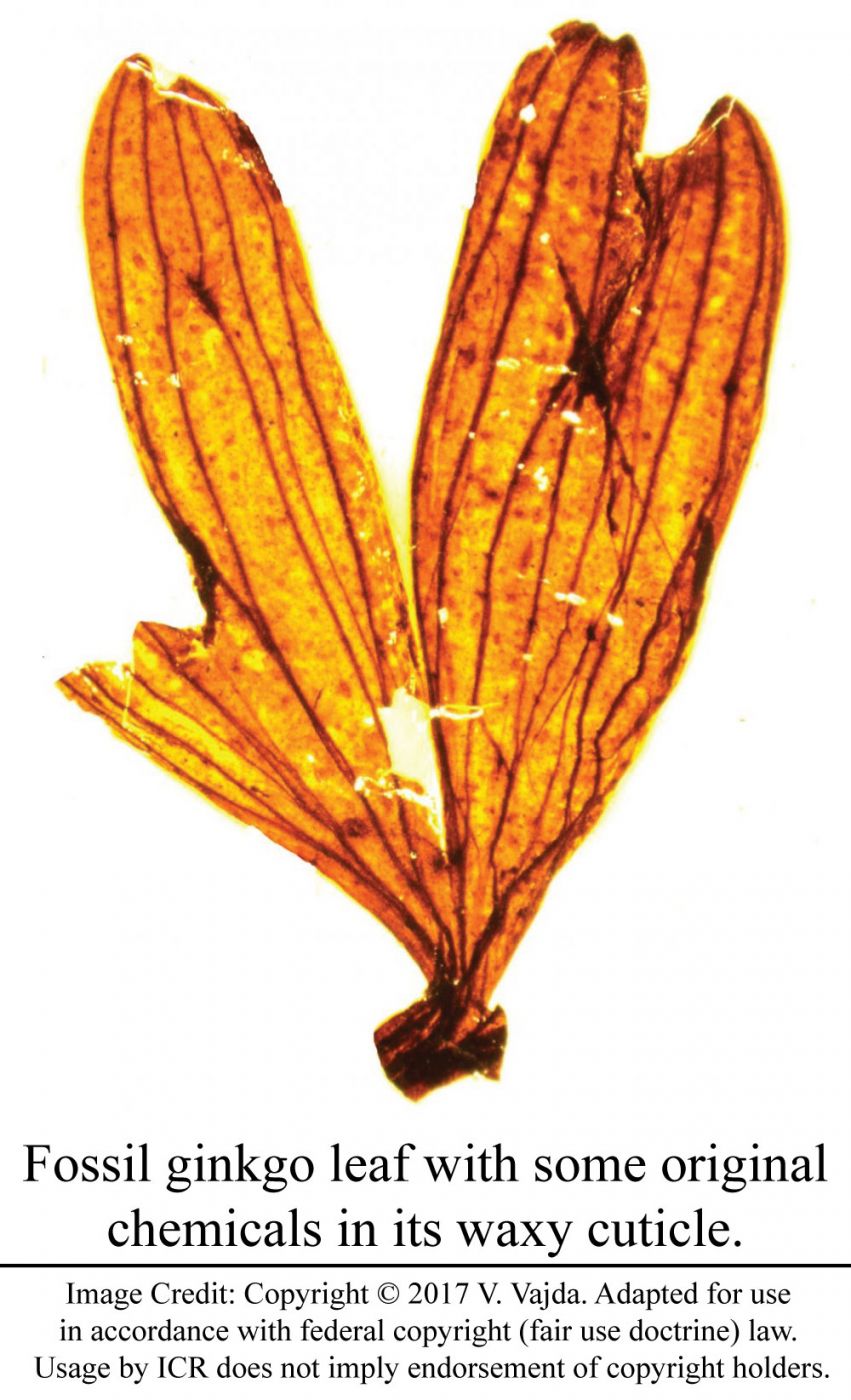 They scanned leaves from living Araucaria trees—tropical conifers that today grow in New Guinea, Australia, and Argentina—and from fossil Araucaria leaves locked in Cretaceous stone. Only the living leaves had FTIR signatures indicating complex sugars like cellulose, but surprisingly the technique revealed the same alkanes, alkenes, and carbon-based ring structures in both living and fossil Araucaria.
Alkenes have double bonds. These tense bonds react more readily with other chemicals than many single bonds. They have not yet reached what chemists call thermodynamic stability—when they lose their potential to react. How can so much chemical potential persist in leaf molecules that are supposedly millions of years old?
Lund University News wrote, "The [waxy] membrane has been preserved in the fossil leaves, some of which are 200 million-years-old."2 This age assignment clearly conflicts with short-lived original plant chemical bonds.
The second surprising result came from scan results between several fundamentally different kinds of plants. They found that specific chemical bond signatures signified the same basic plant kinds. For example, fossil and modern Araucariahad unique chemicals not shared with ginkgos. Lead author Vivi Vajda told Lund University,
The results from the fossil leaves far exceeded our expectations, not only were they full of organic molecules, they also grouped according to well-established botanical relationships, based on DNA analysis of living plants i.e. Ginkgoes in one group, conifers in another.
So they didn't expect to find original organic molecules after supposed millions of years, nor did they expect to find those same molecules in similar plant kinds. It was as though millions of years of evolution never changed these plants' basic forms or even their basic molecules.
Could ginkgos remain ginkgos and Araucaria remain Araucaria because they have been reproducing faithfully within separately created kinds from the beginning of creation?
The original biomolecules in fossil leaf cuticles point to their deposition thousands of years ago, not millions. Also, biochemical similarities between ancient and modern plants of similar groups show no hint of evolution, but fit just fine with the created kinds of Genesis 1:12.
3
References
Vajda, V. 2017. Molecular signatures of fossil leaves provide unexpected new evidence for extinct plant relationships. Nature: Ecology & Evolution. DOI: 10.1038/s41559-017-0224-5.
Through fossil leaves, a step towards Jurassic Park. Lund University News. Posted on lunduniversity.lu.se July 4, 2017, accessed July 24, 2017.
"And the earth brought forth grass, the herb that yields seed according to its kind, and the tree that yields fruit, whose seed is in itself according to its kind."
*Mr. Thomas is Science Writer at the Institute for Creation Research.
Article posted on August 3, 2017.
2 Peter 3
New King James Version (NKJV)
God's Promise Is Not Slack
Ponder this: Scoffers will come in the last days who willfully forget that God created the world by His word and that the flood destroyed that world. The same word now preserves the heavens and the earth until the day of judgment of ungodly men.
3 Beloved, I now write to you this second epistle (in both of which I stir up your pure minds by way of reminder), 2 that you may be mindful of the words which were spoken before by the holy prophets, and of the commandment of us,[a] the apostles of the Lord and Savior, 3 knowing this first: that scoffers will come in the last days, walking according to their own lusts, 4 and saying, "Where is the promise of His coming? For since the fathers fell asleep, all things continue as they were from the beginning of creation." 5 For this they willfully forget: that by the word of God the heavens were of old, and the earth standing out of water and in the water, 6 by which the world that then existed perished, being flooded with water. 7 But the heavens and the earth which are now preserved by the same word, are reserved for fire until the day of judgment and perdition of ungodly men.
Ponder this: God wants all men to come to repentence.
8 But, beloved, do not forget this one thing, that with the Lord one day is as a thousand years, and a thousand years as one day. 9 The Lord is not slack concerning His promise, as some count slackness, but is longsuffering toward us,[b] not willing that any should perish but that all should come to repentance.
The Day of the Lord
Ponder this: The current heavens and earth will be burned up and a new heavens and new earth will be established where only righteousness dwells. How should we then live?
10 But the day of the Lord will come as a thief in the night, in which the heavens will pass away with a great noise, and the elements will melt with fervent heat; both the earth and the works that are in it will be burned up.[c] 11 Therefore, since all these things will be dissolved, what manner of persons ought you to be in holy conduct and godliness, 12 looking for and hastening the coming of the day of God, because of which the heavens will be dissolved, being on fire, and the elements will melt with fervent heat? 13 Nevertheless we, according to His promise, look for new heavens and a new earth in which righteousness dwells.
Be Steadfast
Ponder this: Be steadfast and unmoveable, always abounding in the work of the Lord, even though some things are hard to understand, and do not be mislead by those who twist the scriptures.
14 Therefore, beloved, looking forward to these things, be diligent to be found by Him in peace, without spot and blameless; 15 and consider that the longsuffering of our Lord is salvation—as also our beloved brother Paul, according to the wisdom given to him, has written to you, 16 as also in all his epistles, speaking in them of these things, in which are some things hard to understand, which untaught and unstable people twist to their own destruction, as they do also the rest of the Scriptures.
17

You therefore, beloved, since you know this beforehand, beware lest you also fall from your own steadfastness, being led away with the error of the wicked;

18

but grow in the grace and knowledge of our Lord and Savior Jesus Christ.
To Him be the glory both now and forever. Amen.